In Morocco, as in all Muslim countries, sex outside marriage is illegal and women bear the brunt of society's disapproval. But what is the fate of the children of those single mothers? They cannot attend the better schools, are turned away from infant immunisation clinics and refused government posts. Jobs, housing and a huge range of social advantages are denied them. They are despised outcasts, condemned to a life of discrimination.
Bastards is the first film to tell this story from a mother's point of view.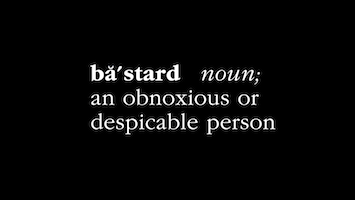 When Rabha El Haimer was 'married' at the age of 14, she didn't know that the traditional ceremony had no legal status. Aged 16, and pregnant, she fled the violent man and his family. When her child was born, she discovered society regarded her as no better than any single mother and her cherished daughter, Salma, as a bastard.
But Rabha refused to allow her circumstances to make her into a victim. Instead, unable to read and write and with no family support, she devoted herself to compelling Salma's father to face up to his responsibilities, and gaining full citizenship for her child. Helping her fight this battle was a unique and radical charity in Casablanca, L'Association Solidarite Feminine. And with her was award-winning film-maker Deborah Perkin.
Over two years, Deborah's camera has followed Rabha's journey. With firsthand testimony from Rabha and others in her position, and with unprecedented access to the family court in Agadir, Bastards reveals the daunting challenge facing single mothers in Morocco today. In the film, men and women involved speak candidly about sex, love, parenthood and money – the universal themes that concern us all.
Rabha's story is interwoven with those of a jilted mistress fighting for child maintenance; an illegitimate student denied equal employment rights and a single mother whose boyfriend tried to sell their baby. All are compelling in their humour, their positive energy and their willingness to change society by taking responsibility for their own fates. It is a gripping and ultimately uplifting and inspiring film.