In Morocco, as in all Muslim countries, sex outside marriage is illegal and women bear the brunt of society's disapproval. But what is the fate of the children of those single mothers? They cannot attend the better schools, are turned away from infant immunisation clinics and refused government posts. Jobs, housing and a huge range of social advantages are denied them. They are despised outcasts, condemned to a life of discrimination.
Bastards is the first film to tell this story from a mother's point of view.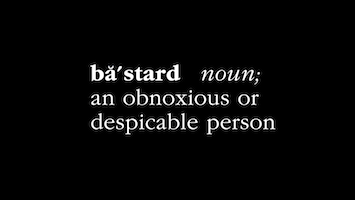 When Rabha El Haimer was 'married' at the age of 14, she didn't know that the traditional ceremony had no legal status. Aged 16, and pregnant, she fled the violent man and his family. When her child was born, she discovered society regarded her as no better than any single mother and her cherished daughter, Salma, as a bastard.
But Rabha refused to allow her circumstances to make her into a victim. Instead, unable to read and write and with no family support, she devoted herself to compelling Salma's father to face up to his responsibilities, and gaining full citizenship for her child. Helping her fight this battle was a unique and radical charity in Casablanca, L'Association Solidarite Feminine. And with her was award-winning film-maker Deborah Perkin.
Over two years, Deborah's camera has followed Rabha's journey. With firsthand testimony from Rabha and others in her position, and with unprecedented access to the family court in Agadir, Bastards reveals the daunting challenge facing single mothers in Morocco today. In the film, men and women involved speak candidly about sex, love, parenthood and money – the universal themes that concern us all.
Rabha's story is interwoven with those of a jilted mistress fighting for child maintenance; an illegitimate student denied equal employment rights and a single mother whose boyfriend tried to sell their baby. All are compelling in their humour, their positive energy and their willingness to change society by taking responsibility for their own fates. It is a gripping and ultimately uplifting and inspiring film.
To see Deborah's post screening Q+A at the Lincoln Centre New York click here.
Deborah Perkin FAQs
Why did you make this film?
Rabha is a remarkable character, an illiterate child bride with no legal rights, who fights back to claim a better future for herself and her daughter. I desperately want the world to see her story, to admire her battle for justice and to celebrate her success. I found her story through my passion to tell a good news story from the Muslim world. Excruciatingly hard as Rabha's life has been, she does have access to the justice system, and she does have the support of feisty women lawyers and activists.
I am tired of seeing negative media stories about Muslims as male terrorists and female veiled victims. I want to look behind the stereotypes, to explore the ordinary lives of Muslim people. Bastards looks candidly at sex, love, parenthood and money – the universal themes that concern us all.
So where did you start?
I went on holiday to Morocco with my mother! We were impressed with the way women seemed to be engaged in society, more than in other Muslim countries we had visited, though we didn't claim to be any sort of experts. When I got home I discovered that Moroccan family law reforms of 2004 gave women a measure of equality within marriage. The position of single mothers and illegitimate children is slowly changing for the better too, as attitudes soften in Morocco. Even though many Moroccans think the reforms don't go far enough, it seemed like a very unusual step in the right direction. So I started talking to Moroccan lawyers, and searching for a documentary subject that could show the law in action.
How did you find out about the plight of "bastards" in Morocco?
In my search for a subject I quickly came across Aicha Chenna's pioneering work for single mothers. She's a national heroine in Morocco, and increasingly around the world. The French government has recently awarded her their highest honour, the Légion d'Honneur and previously she won the American Opus Prize celebrating religion in social action. She's determined that children shouldn't suffer because their parents aren't married, and wants them to be full members of Moroccan society. Her charity L'Association Solidarité Feminine advises single mothers how to use the law to their advantage. Over 50 years, Aicha Chenna battled religious and social prejudice and helped to reform the law. Compared with the West, the rights of Moroccan single mothers may be very narrow but compared with other Muslim countries, they are amazingly broad. No woman is jailed or executed for breaking the family law.
How difficult was it to gain access to film the lives of these women and their children?
In any observational documentary, first of all you have to win people's trust. Why should a charity like L'Association Solidarité Feminine open its casebook to a British filmmaker without a lot of discussion first? We came to an agreement over the course of a year, shooting a taster tape, and discussing the ground rules. Crucially, I had to agree to hide the identities for the Moroccan audience, of any single mothers who preferred to remain anonymous. One of the women in the film lives in fear for her life, believing that her father would kill her if he discovered she had had an illegitimate child, so her identity is hidden for all viewers around the world.
The long negotiation and preparation over, and the agreement with the charity in place, I had the most wonderful welcome from the single mothers themselves. I had expected nine out of ten single mothers to be camera-shy, but the opposite was true. Very few women refused to be filmed and most wanted to tell me their stories and laugh and cry with me. It was a privilege to be allowed into their lives, and they seemed to enjoy the confessional nature of documentary making. My Assistant Producer Nora Fakim speaks Arabic, and I don't, but it's amazing how much communication can take place non-verbally. I think it also helped that Nora and I lived in a slummy part of Casablanca where the single mums live, and word got round that we were sharing a room, sleeping on two mattresses, in a house without a bathroom, cooking on a stove in the corridor and using the local hammam. We certainly didn't come across as pampered media types.
How did you get access to film in the courts?
I believe I am the first Westerner to film in a Moroccan family court – and it wasn't easy. As a news journalist working for Al Jazeera and the BBC, Nora had good relationships with the Moroccan authorities. We secured the normal filming permission from the Ministry of the Interior, and then once we had identified Rabha's story, we approached the Ministry of Justice. We explained that we wanted to show Morocco's far-reaching 2004 legal reforms in action.
Why should non-Muslims care?
Well, we are all human beings, living in a global village and we should take an interest in each other, and help where we can! Having said that, this isn't a film that people "ought" to watch because it's politically correct. Quite the opposite! It's closer to being a gritty courtroom drama, or a soap opera, with women and men talking frankly about sex, money and marriage. It's the stuff of everyone's lives. And it's not so long ago that illegitimate children were stigmatised in the West…
Illegitimate children were stigmatised in the West?
Sex outside marriage was never illegal in Britain, but it was severely frowned upon right up to around the 1970s. Some families cast out their pregnant unmarried daughters, and charities existed to provide for single mothers and their children, just like in Morocco today. The word bastard itself means illegitimate child but also carries the shocking sense of being an obnoxious person. I don't make this point in the film, but Morocco reminds me of what I read about Victorian Britain, with housemaids falsely promised marriage by their employers, women who had lost their virginities being considered not fit to marry, and fathers telling their pregnant daughters never to darken their doors again.
Is the film relevant now?
Good stories are timeless and Rabha's story will be an inspiration for years to come…. but there's never been a better time to watch Bastards. Every day we hear about abuse of women's and children's rights around the world – sexual harassment of female Egyptian protestors, acid attacks on women in Pakistan, child brides in Yemen – and it's not just in Muslim countries, but on our doorsteps in the West, with continual coverage of domestic violence and paedophilia. In Britain recently, a woman was threatened with rape for campaigning to put the author Jane Austen on our £10 banknote.
How did you fund the film?
I asked for voluntary redundancy from the BBC, and after three requests they finally agreed. I used the money to fund the shoot. Armed with my compelling and extraordinary footage, I launched a fundraising campaign on Kickstarter, which raised £10,000. Not only did that get me into post-production, but also just as importantly, it gave me 229 individual backers in 16 countries around the world. Then the Film Agency for Wales came on board as an equity investor, putting in the vital funding for completion. Thank you to everyone who has helped to make the film. Now we want to make sure it gets seen around the world.