After many years in documentary film making, Deborah Perkin is taking a new direction as a playwright, to tell stories in the art form that she has loved all her life. At university she directed plays for London University Drama Society, including Aristophanes' Lysistrata, the medieval miracle play Mankind and Shakespeare's A Winter's Tale, and took two productions to the Edinburgh Fringe Festival where she was the first person to hire the building that later developed into the Pleasance Theatre. She was lured into film and television because of her strong interest in politics and journalism, but always secretly hoped to return to the theatre. She has been writing sporadically for some years, and received encouragement from drama colleagues with the BBC and beyond.
Script Lab at Theatr Brycheiniog 2020
Deborah received funding from the Arts Council of Wales to develop her first stage play – a play with music – with the working title The Risen Woman, about the 19th century opera singer Adelina Patti's struggle to control her art and her reputation.
She worked with a talented group of Welsh theatre professionals led by director Erica Eirian, in partnership with Theatr Brycheiniog, https://www.brycheiniog.co.uk/en. Click here for details of the creative talent involved. Work took place on the text, using drawing and sculpture exercises to explore the themes of the play, as well as the music, particularly Verdi's La Traviata, the fallen woman of opera that Adelina Patti was determined not to mirror in life. The planned fortnight in March 2020 was forced to end early, due to the COVID19 pandemic. She is now developing the script with support from former National Theatre staff director, Hannah Noone. When public spaces reopen, Deborah intends to stage a rehearsed reading. The aim is of course to see the play produced on a stage near you.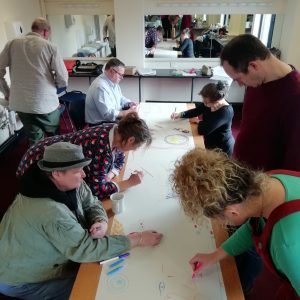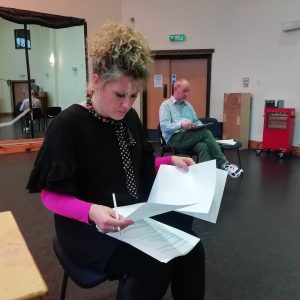 Deborah is working on other scripts alongside The Risen Woman, notably Ashes to Ashes, a short film script now longlisted for possible production by the Royal Birmingham Conservatoire of Acting https://www.bcu.ac.uk/conservatoire/acting in 2021. She has been keeping a Plague Journal of her experiences during the COVID19 pandemic, which she has experienced as the wife of an Intensive Care consultant working in Cardiff.
She accepted a place for 2021-22 on the University of East Anglia's Masters in Scriptwriting.