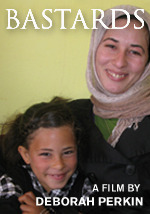 I am delighted to let you know that I have signed a deal with Films Transit International. It should ensure that "Bastards" will reach viewers all over the world.
Founded in 1982 by Jan Rofekamp, Films Transit International is one of the longest running, renowned and respected international sales agencies of quality documentaries with offices in Montréal and in New York http://www.filmstransit.com
Jan offered to represent the film within 24 hours of receiving it. After three years of hard work to produce the film, this was my dream come true! It is a great pleasure to be working with Jan and with his New York colleague, Diana Holtzburg, whom I met at Sheffield in June. The plan is to give the film a year on the film festival circuit, and then for television stations to air it.
Tagged with: